Practice Golf in Your Backyard with a SYNLawn St. Louis Putting Green
Practicing your short game can be easier and more convenient than ever in St. Louis, MO with an artificial backyard putting green from the experts at SYNLawn St. Louis. Our team not only supplies industry-leading synthetic golf grass; we also provide professional putting green design and installation services. By working with us, we can add the backyard putting green of your dreams to your property, allowing you to play or practice whenever you like.
The Intricacies and Requirements of Golf
Golf is one of the greatest games a person can play. It is a game of both finesse and skill. As such, it requires significant practice to master. Not only does a golfer need to practice their drives, but they must also develop their short game – also known as putting.
Fortunately, at SYNLawn St. Louis, our team can help golfers in St. Louis and other Missouri communities practice their short game by designing and installing custom backyard putting greens. Our artificial backyard putting greens provide you with an ideal surface for golf that perfectly mimics the type of traditional turf you would find on a professional golf course. However, unlike conventional golf greens, our synthetic golf grass stays perfectly trimmed without a need for watering, mowing, and other forms of maintenance. As such, our backyard putting greens offer you advantages instead of responsibilities.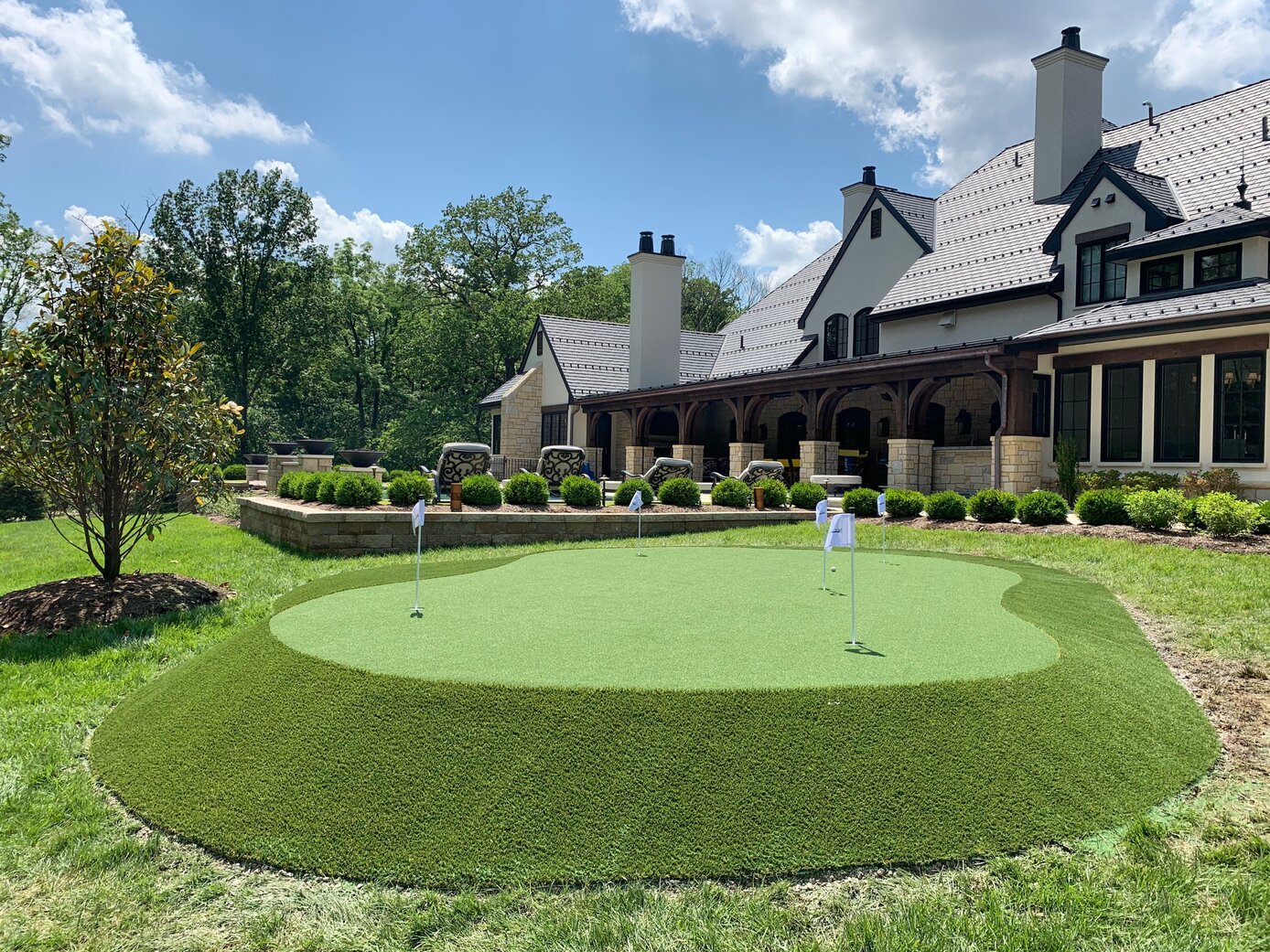 The Benefits of Installing Artificial Backyard Putting Greens in St. Louis, MO
The many benefits of installing an artificial backyard putting green from us at SYNLawn St. Louis include the following:
Practice at Your Convenience
Sadly, for many, there is never enough time for golf and especially not for practice. Work and other obligations often make sure of that. And even when there is time, most golfers have to commute to a course and wait for their tee time. Thankfully, it does not have to be this way! With a backyard putting green from SYNLawn St. Louis, you can practice your short game without having to commute or wait for your tee time. Instead, you can simply walk out your backdoor with your favorite putter and get to work!
Fun for the Whole Family & Perfect for Entertaining
With an artificial putting green in your own backyard, your home may become the new spot for all your loved ones to hang out. Our putting greens can be a talking point, a fun activity for guests and family members of nearly all ages, or even a green surface for backyard games and activities aside from golf. Thanks to our synthetic golf turf's immense durability, there are few limits on what you can do with it. So go ahead: have a picnic on it, use it as a dance floor, or do some competitive putting with friends and family! With an artificial backyard putting green from SYNLawn St. Louis, the choice is yours.
Own a Long Lasting, Gorgeously Green Feature
By choosing SYNLawn St. Louis for your backyard putting green, you not only select industry-leading artificial golf grass but experts in putting green design and installation. As a result, your synthetic putting green will be tailored to your backyard, stylized and shaped to fit your space and blend with other greenery like trees and plants. Plus, with our high-quality golf turf and installation, you can rest assured that it will hold up well for years to come, giving you a long-lasting, beautifully green backyard feature.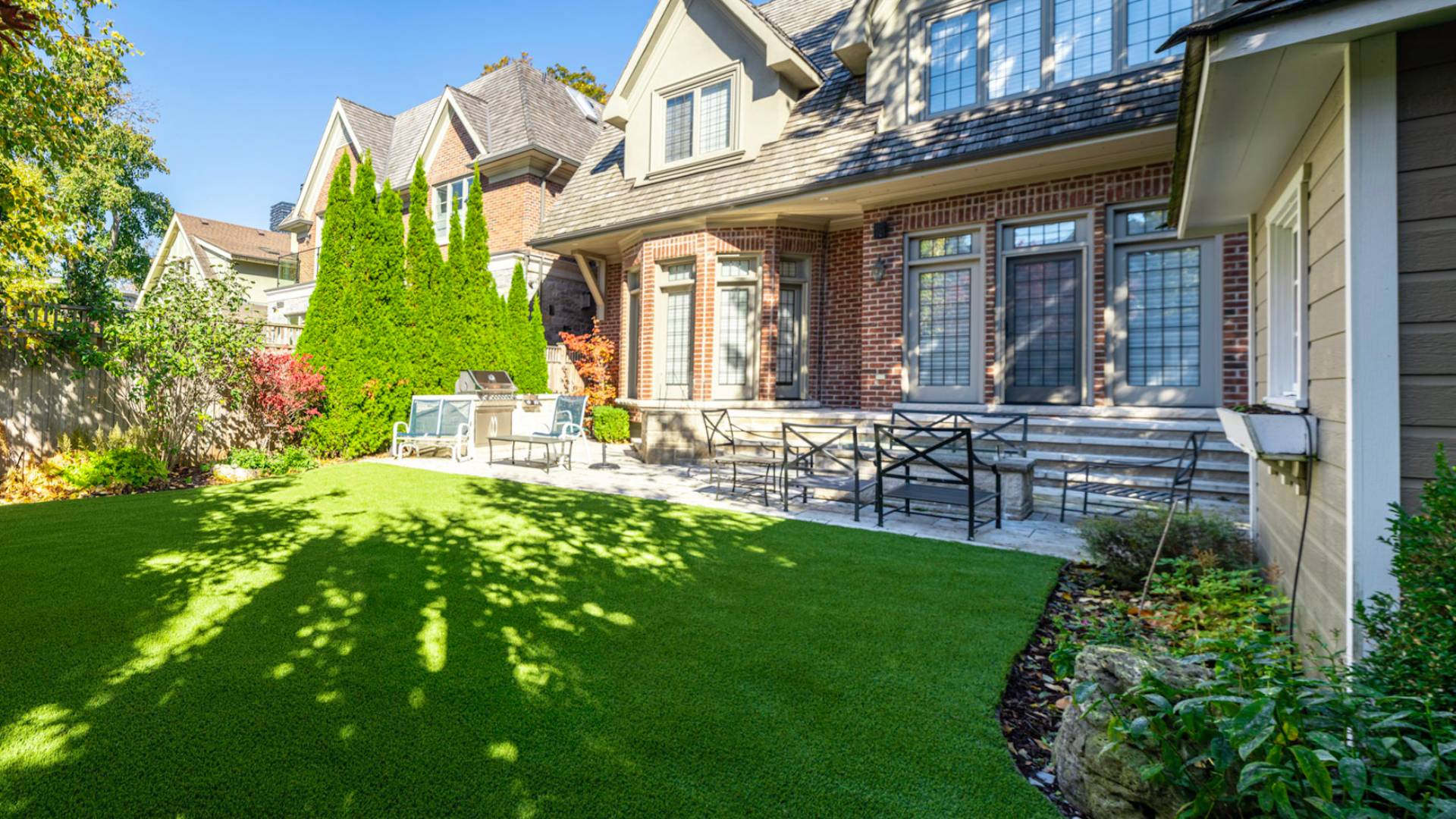 Get a Quote for St. Louis, MO Backyard Putting Green Installation Today!
At SYNLawn St. Louis, we provide convenient, highly playable backyard putting greens to homes throughout St. Louis, MO. By adding one to your backyard, you can have the surfacing you need to practice your short game whenever you like. It can also provide a fun activity for families and even entertaining guests. So contact us today to learn more about our backyard putting green installation and receive a free quote!