Commercial Artificial Turf Installation in St. Louis
High-Quality Synthetic Turf for St. Louis, Missouri Businesses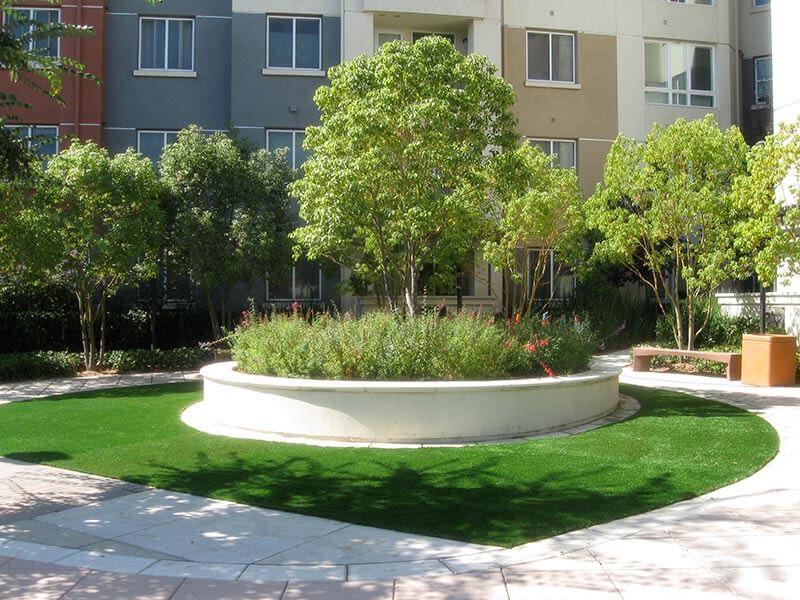 Choosing SYNLawn®'s state-of-the-art synthetic turf for your commercial project is one of the wisest investments you will ever make for your business. Landscaping can become incredibly costly and will inevitably take up a large portion of your budget over time. Why not reduce that expense with beautiful, natural-looking artificial turf that'll pay for itself in no time at all?
Many St. Louis, Missouri businesses choose SYNLawn® for artificial grass lawns, synthetic putting greens, golf greens, tee lines, and landscaping turf. Some of the most popular uses for faux grass in commercial establishments include:
Playground turf areas
Pet turf runs
Balcony spaces
Theme parks
Sport fields
Batting cages and bull pins
Retail stores
Restaurants
And more!
A natural lawn will always cost time and money, and most companies will have to employ someone to install complex watering systems, cut their grass on a regular basis, and remove weeds to keep the area looking neat and pristine. A synthetic grass lawn from SYNLawn®, on the other hand, leaves the scratchy, bumpy fake grass installations of yesteryear in the dust!
With our affordable synthetic grass lawns, you don't have to worry about watering or mowing the lawn anymore, leaving you free to focus on the growth of your business. Our artificial turf lawns are much easier to maintain than natural grass lawns and can usually save up to 70 percent on your water bill every month.
SYNLawn® offers some of the best artificial grass turf products and installation techniques in the U.S. thanks to our pioneering research and development team. If you are looking to reduce your water bills while still being able to impress clients with your business' exterior appearance, please contact us today for more information about our synthetic grass installations!