Artificial Golf Putting Greens
St. Louis, Missouri Synthetic Golf Greens Installation
It's one thing for artificial golf greens to look like a golf green, but it's another thing for it to perform like one. If you're serious about improving your golf skills, SYNLawn of St. Louis will help. We have put extensive research and development into creating our materials and manufacturing technology to offer SYNLawn golfers the best in artificial grass. We have helped many St. Louis golfers take their golf game to the next level with our synthetic golf greens. Our Installation team provides a full line of artificial golf turf applications.
Artificial Golf Green Applications in STL
For more than a decade, SYNLawn has been one of the most trusted names in the synthetic grass industry. Our artificial golf greens are engineered to perform just like natural grass to provide you with an experience that mirrors playing on the most beautiful golf courses. We even offer synthetic tee lines for commercial industries. Common synthetic putting green applications include:
Indoor synthetic turf putting greens
Backyard synthetic turf putting greens
Commercial golf greens
Residential DIY putting greens
Fairways
Portable mats
And more!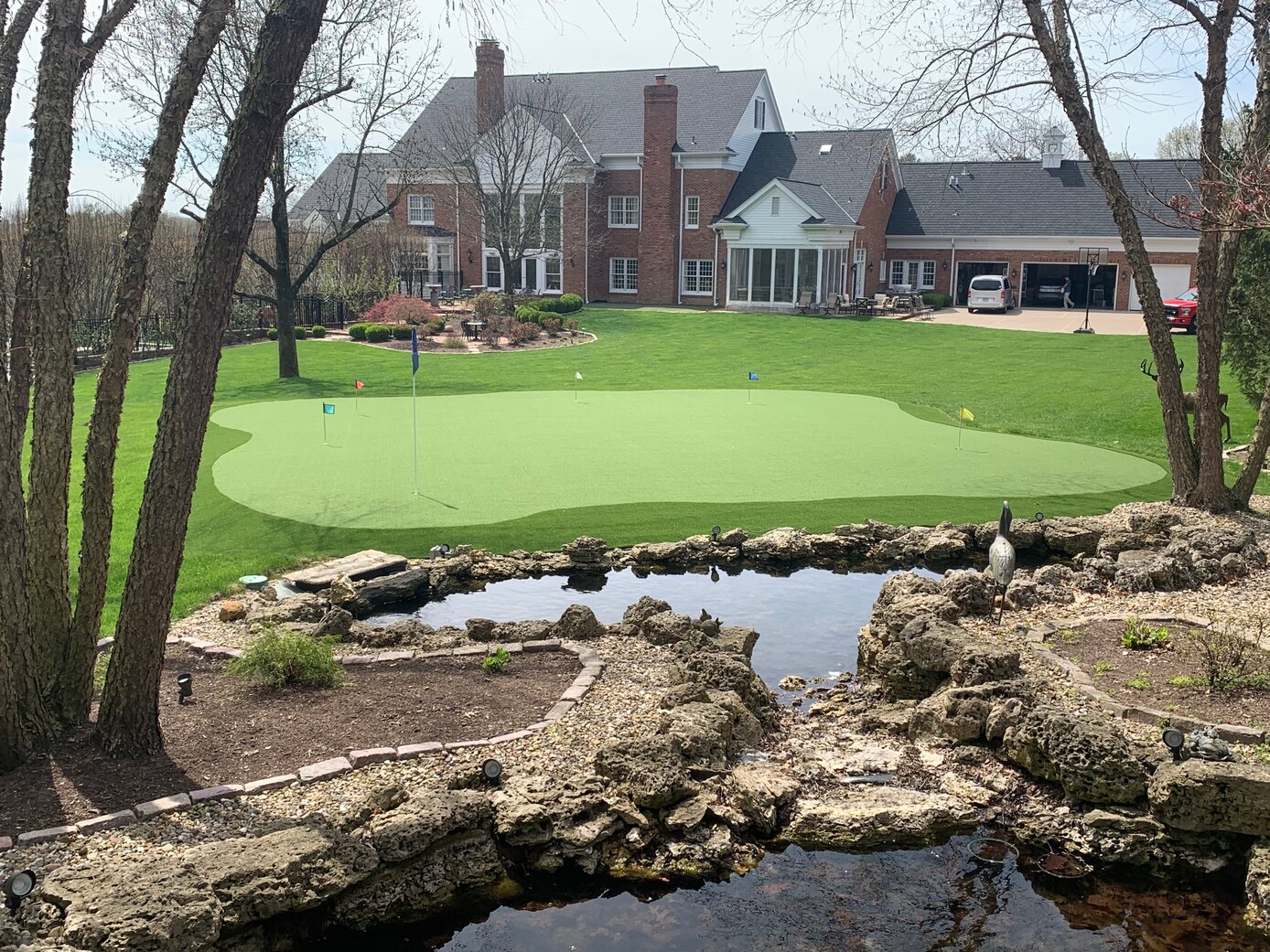 Golf Putting Green Convenience
With the convenience of a backyard artificial putting green, your short game will significantly improve. Indoor or outdoor putting greens mean you can golf on your own terms. For those times that the golf course might be closed, you can rely on your putting green grass to be ready when you are. You don't have to be a professional to own a home putting green. These greens are fun for the whole family!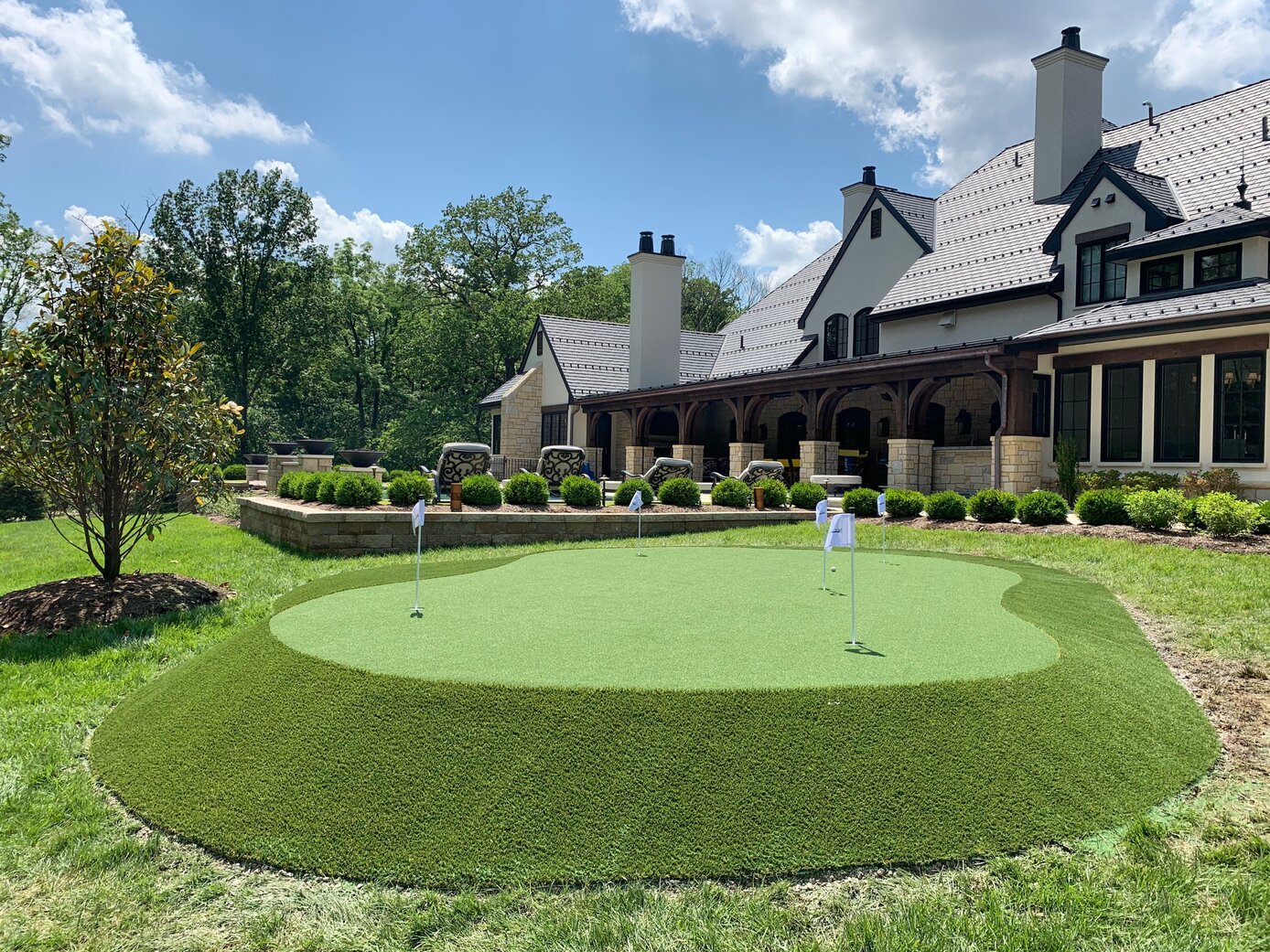 Artificial Putting Turf Practice
Putting and chipping are two of the most important parts of the golf game. Whether you are having fun with the family or trying to improve your short game, our putting greens are ready when you are! Our putting greens make use of :
· Short putts

· Mid-range puts

· Lag putts

· Distance Control

· Breaking puts

· Valleys

· Chip shots

· Bunker shots
Easy Maintenance With Artificial Putting Greens
Installing a SYNLawn green is one of the best decisions you can make for your home or business. Our grass for putting greens are completely water-free. This is good for the environment and your wallet! SYNLawn turf also prevents weeds from maturing and distributing seeds. There is no need for pesticides or pulling weeds. Since our grass doesn't grow, there is no need for lawnmowers as your grass will stay the right height all year long.
More benefits of our golf grass in St. Louis:
Remains at Optimal Height
Natural Appearance
UV-Stabilized
True Ball Roll
Curious About Our Artificial Turf Putting Greens? Contact Us!
If you would like further details about our backyard, indoor and outdoor putting greens, or any of our other artificial grass products, please don't hesitate to contact our SYNLawn® installers in St. Louis, Missouri. Schedule your free initial consultation today!