Artificial Turf for Patios, Decks & Patios in St. Louis
We provide some of the finest artificial grass throughout St. Louis and Springfield for rooftop lawns, porches and more
The attractiveness, versatility and durability of artificial grass makes it perfect for use on patios, decks, roofs, and other areas in St. Louis and Springfield, MO that are exposed to the elements. If you live on the top floor of a building or in a home with a flat roof, artificial grass provides instant living and recreational areas you might think of as your own oasis – a place to escape the concrete facade of city life.
Beautifying and naturalizing your porch, deck or patio with lushly green artificial turf is easy. Use our synthetic grass as a solid covering or form our adaptable artificial turf into charming designs. Additionally, synthetic grass adorning your porch, patio or deck will give you and your guests the pleasant sensation of real grass under your bare feet. Best of all, you can enjoy your artificial turf without having to mow, clip, water, or weed your yard.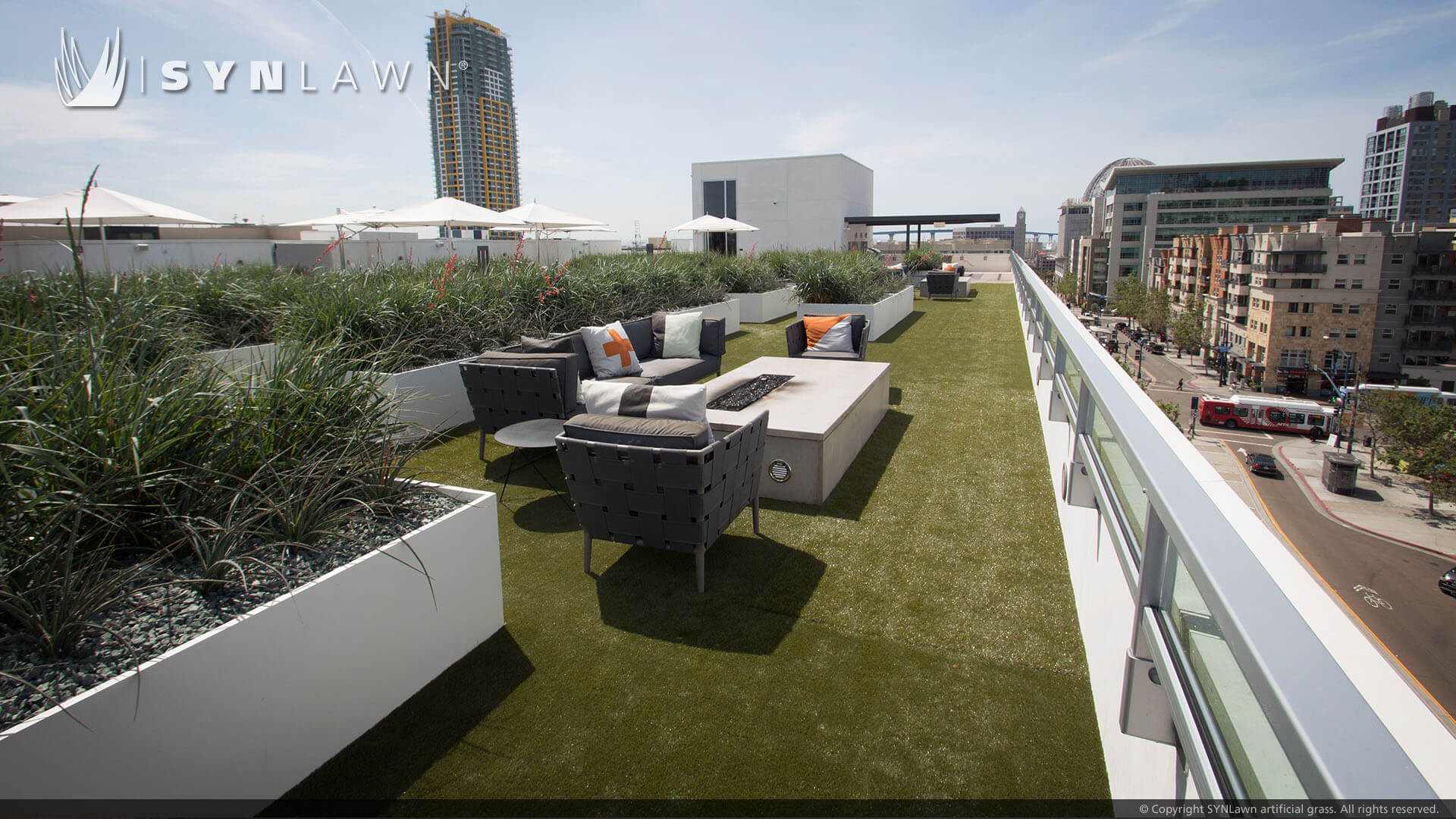 Benefits of Artificial Grass on Roofs, Decks and Patios
In addition to being nearly self-maintaining, artificial grass also offers the following advantages:
Can be easily hosed off if grass blades get dirty
Will not raise temperatures of buildings if placed on rooftops
Remains impervious to sleet, snow, rain, or extreme temperatures
Is customizable to accommodate all shapes and sizes of outdoor areas
Eliminates the need to stain, waterproof or weatherproof certain deck, patio or roof materials
Allows you to decorate just about any kind of area you wish–cut pieces of artificial grass to place under potted plants or create your own garden scene using a combination of artificial grass and your favorite flowers
Artificial turf is also pet-friendly, affordable and offers a Class 1 fire rating for safe, regulation-compliant use in commercial buildings. In addition, because synthetic grass is not attractive to insects or rodents, you don't have to worry about pests infesting your home or ruining your parties!
For St. Louis residents, artificial turf is becoming a must-have complement for their patios, decks and roofs. When it isn't possible to escape the city for the weekend and enjoy a picnic on soft, green grass, you can always depend on escaping to another part of your home where the great outdoors is just a few steps away and the delightful feeling of warm grass under your feet means simply slipping off your shoes.
For more information about how you can start enjoying our gorgeous artificial grass in St. Louis and Springfield, MO, call us at 636-231-5844 or contact us online today for a FREE design consultation!