Columbia Artificial Grass Landscapes
Hypoallergenic artificial turf for lawns, playgrounds and sports fields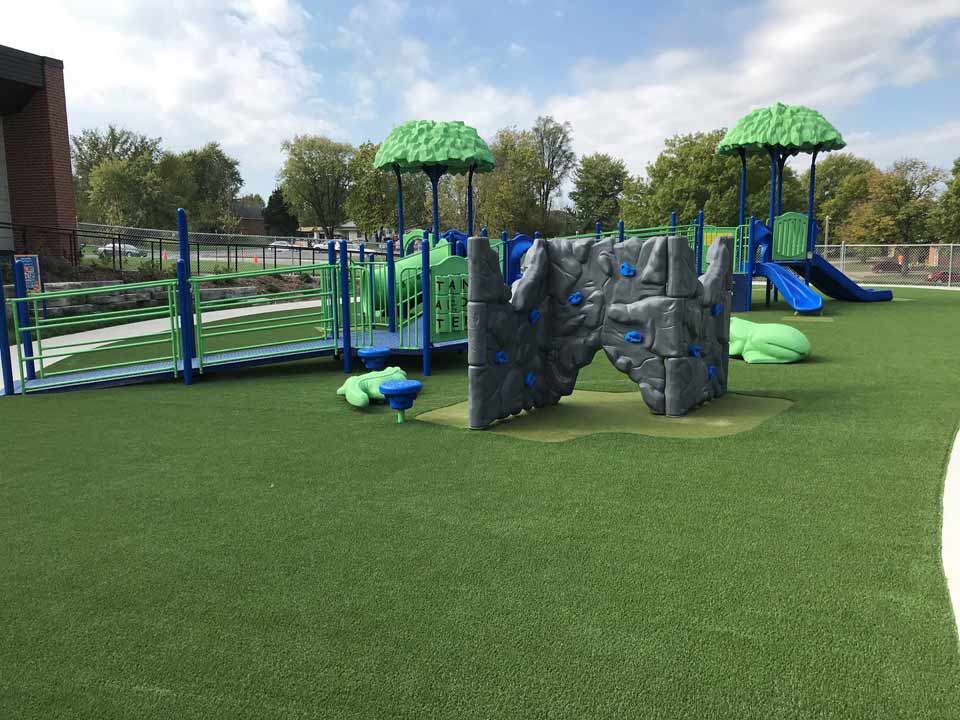 SYNLawn is bringing cutting-edge artificial grass technology all throughout Missouri, including the progressive town of Columbia. Our artificial turf landscaping solution looks, feels, and reacts just like real sod. The main differences are its draining power and low maintenance upkeep. It also lasts significantly longer than traditional landscaping.
Our experts provide free design consultations to homeowners and commercial property managers looking for a solution that saves them time and money in the long run. When installed at a playground, kids can enjoy healthy playtime on a hypoallergenic surface that won't stain clothing or incite allergies. Commercial facilities with sprawling landscapes, such as those found at local colleges and university campuses, can enjoy lush green grass and reallocate the costs of landscaping maintenance towards educational or athletic resources. SYNLawn has you covered for all types of uses for our artificial grass products like:
Backyard putting greens
Front and backyards
Decks and patios
Sports fields
Batting cages, bullpens, and dugouts
Pet spaces
We come to you, so we can see the space firsthand to provide an educated recommendation and solution to your needs. You can touch and feel our turf-like fibers to see how they perform like the real thing.
Since Missouri is home to many hills and prairies, we understand the dynamics and challenges you may be facing to have a level lawn or sports field. Water runoff from sloped landscapes can also compromise the integrity of your home or business. That is why safety is always at the forefront of our mind. We will work with you to ensure you have the right foundation for a long-lasting alternative landscaping solution. Here are a few more reasons why you will love your partnership with SYNLawn and our products:
Completely green bio-based turf from the fibers to the backing
Water conservative installation to reallocate savings where needed
Limited lifetime warranty up to 15 years on many product lines
Easy affordability with the SYNLawn financing program
From schools and daycare facilities to home lawns and dog kennels, SYNLawn looks great wherever it is installed. You will no longer need to worry about weeding, filling in low spots, or correcting soil erosion on your property. Kids and pets love the alternative surface, and you will be making a great step forward towards reducing your carbon footprint and water waste with your artificial turf application.
SYNLawn custom cuts and builds all our artificial grass products at our factory in Dalton, GA, and we bring it straight to you in Columbia, MO. Our experts are friendly, knowledgeable, experienced, and will be direct with you to help you make the right product selection for your needs. Contact us today for your free on-site design consultation!