Craft an Intimate Oasis with Artificial Grass for Your Roof, Deck, or Patio in St. Louis, MO
Home and business owners can use artificial grass for roofs, decks, and patios from SYNLawn St. Louis to craft an intimate oasis in St. Louis, MO. In today's fast-paced world, finding a tranquil retreat within the comfort of your own property has become increasingly important. Imagine creating a personal oasis on your roof, deck, or patio, where you can relax and unwind amidst the beauty of greenery. Thanks to our innovative artificial grass solutions, you can now bring the lushness of greenery to these spaces with ease, helping you transform your property in St. Louis, Missouri, into a serene haven.
Enhancing Aesthetic Appeal
Artificial grass for roofs, decks, and patios can instantly enhance the aesthetic appeal of these areas, turning them into inviting spaces for relaxation and entertainment. At SYNLawn St. Louis, our high-quality synthetic grass options come in various shades of green, replicating the appearance of traditional grass. Whether you prefer a manicured lawn or a more lush-looking landscape, you can find the perfect style to complement your property's overall style and design in St. Louis, MO. The vibrant and lifelike appearance of our artificial turf for roofs, decks, and patios adds an element of freshness and vitality to your outdoor spaces, creating an intimate oasis.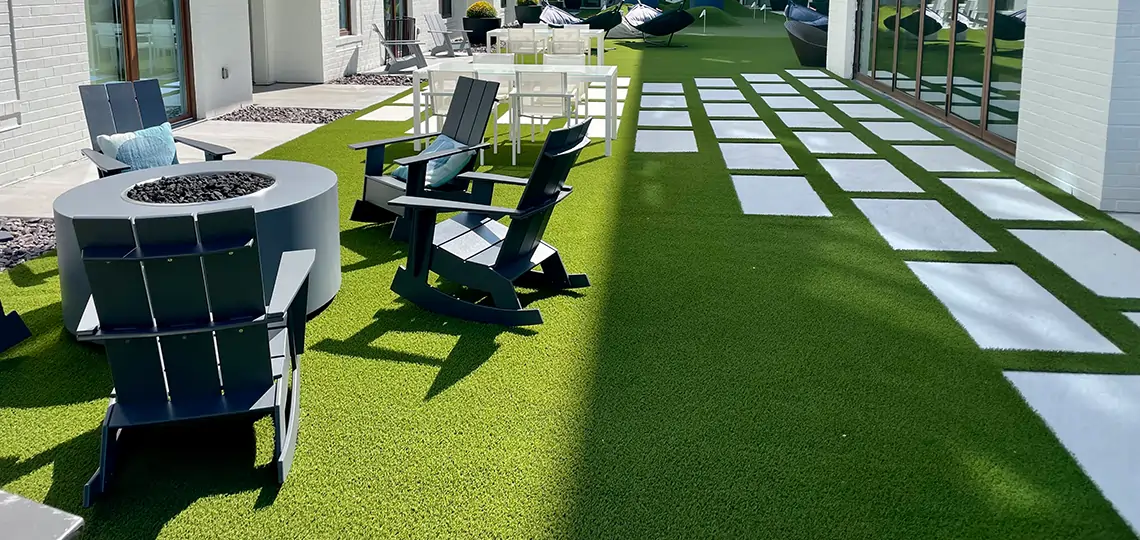 Low Maintenance
One of the greatest advantages of using synthetic grass for roofs, decks, and patios is the low levels of maintenance it requires. Unlike conventional grass, our synthetic turf does not need watering, mowing, or fertilizing. So say goodbye to tedious upkeep and hello to more time for relaxation. Our artificial grass is designed to withstand various weather conditions, including rain, heat, and snow, making it highly durable and long-lasting. Additionally, it does not attract pests or insects, eliminating the need for harmful pesticides. With these minimal maintenance requirements, you can spend more quality time enjoying your intimate oasis rather than tending to it.
Versatile Applications
At SYNLawn St. Louis, our artificial turf can be applied to a wide range of surfaces, making it incredibly versatile. Transform your rooftop into a green sanctuary where you can escape the hustle and bustle of city life. Convert your deck into an inviting outdoor space for social gatherings and al fresco dining. Revitalize your patio by replacing dull concrete with a soft and inviting synthetic grass surface. The possibilities are practically endless!
At SYNLawn St. Louis, our team offers specialized installation methods for each application, ensuring a seamless and secure fit, so let your imagination run wild and create a personalized oasis that reflects your unique style and taste.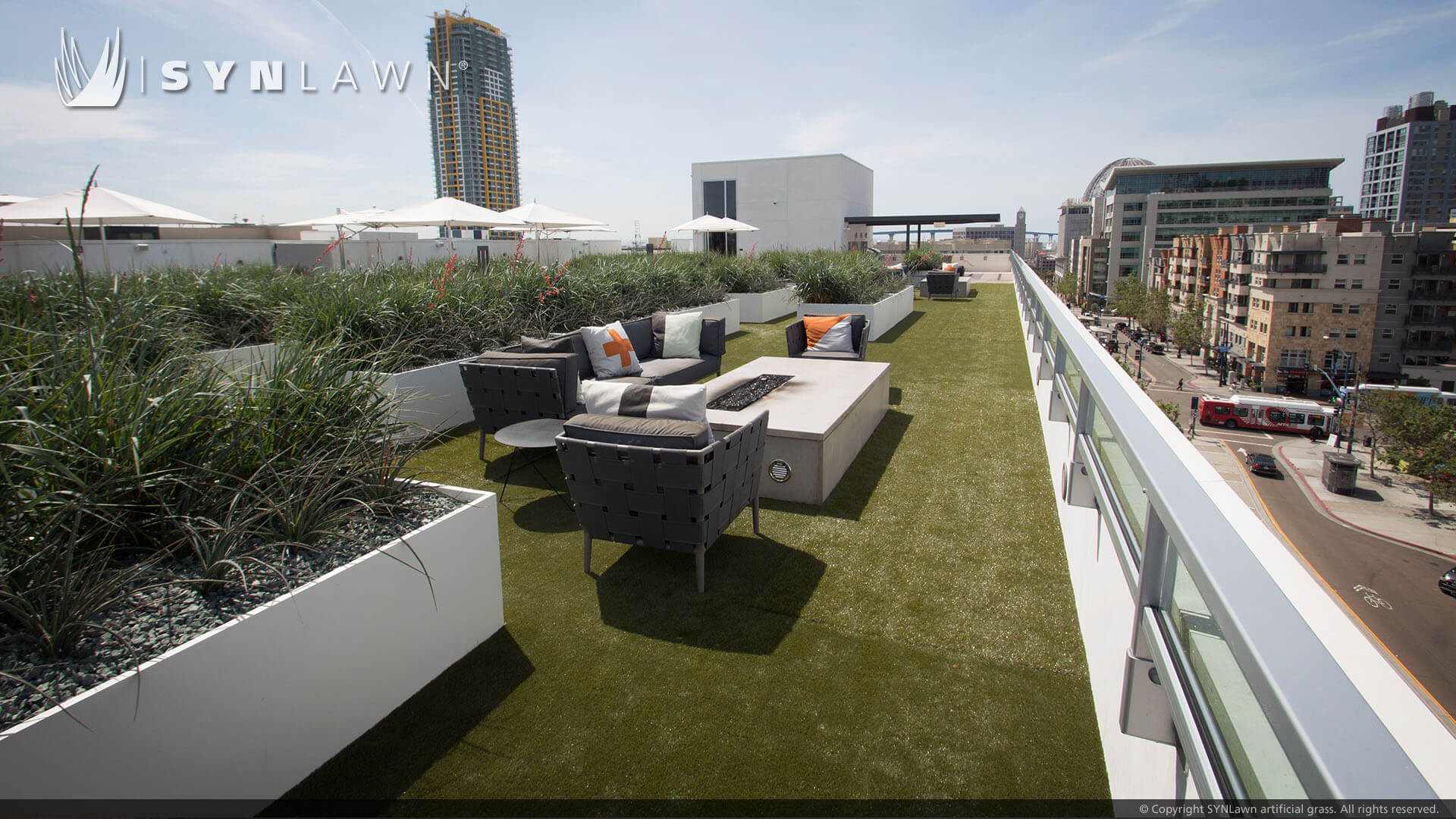 Comfort & Safety
Artificial grass for roofs, decks, and patios offers exceptional comfort and safety for you, your family, and your guests. The soft, cushioned surface provides a pleasant feel underfoot, making it ideal for barefoot walking or lounging. At SYNLawn St. Louis, our synthetic turf is designed with advanced drainage systems, helping to prevent water from pooling and keeping the surface drier and more slip-resistant. This feature is especially valuable on rooftops, decks, and patios where safety is paramount. Whether you are hosting a gathering or simply enjoying a quiet moment alone, you can relax knowing that your artificial turf surface offers both comfort and security.
Contact Us Today to Learn More About Crafting Your Greener Oasis!
Creating an intimate oasis at your home or business in St. Louis, Missouri, is within reach, thanks to artificial grass for roofs, decks, and patios from SYNLawn St. Louis. From enhancing the aesthetic appeal and requiring minimal maintenance to providing versatility and comfort, our synthetic grass offers numerous benefits for homeowners and business owners alike. Embrace the beauty of greenery without the hassle of traditional landscaping, so you can unwind and rejuvenate in your personalized sanctuary.
Contact us at SYNLawn St. Louis to learn more and get a quote for your roof, deck, or patio area!